STANDARD CLASSICAL
ARABIC -FEATURES-



(I)
STANDARD CLASSICAL
ARABIC COURSE

(II)
STANDARD CLASSICAL
ARABIC LEXICAL

(III)
STANDARD CLASSICAL
ARABIC READER






EASTERN / LEVANTINE COLLOQUIAL ARABIC

NORTH AFRCIAN COLLOQUIAL ARABIC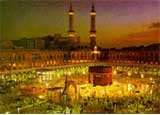 LISTEN TO ARAB RADIO

READ AL-JAZEERA



Complimentary Viewing of Our Online Arabic Courses

Complimentary viewing is provided ONLY to educators, schools, organizations, libraries, and institutions, referred to herein as Language Service Providers (LSP).
The Complimentary viewing is valid for one day.
The temporary Password and the Username will be activated.
The activation date is designated by the viewer.
The course is for the personal viewing of the LSP for the purpose of evaluation. Providing the Username and the Password for a third party constitutes a breach of this agreement.
The material of this course is protected by the copyright regulation. The LSP can print the content for personal use. Distributing the material to others is a violation of this agreement.
The Service Provider (Middle East International Services-Dalilusa.com) is committed to maintain the site, keep the Arabic Course functional, and maintain the monthly office hours for participants.
Confirming the acceptance of these terms is an actual signing of a contract. Any breach to this agreement will be handled through appropriate legal channels.
To request complimentary reviewing, please:
Send us an-email confirming your institution. (e-mail addresses which do not mention the name of the institution will not be honored).
Send us User Name and Password of your own.
Indicate the date you wish to have the course activated.
Commerce

Higher education

Language Services
Resource Center

Almusaafer

Arabic Course

Contact Us
Phone (206) 295-4784
West University Center 4500 Ninth Avenue NE Suite 300 Seattle, WA 98105 USA

Copyright © 2019 Middle East International Services. All rights reserved.